Purdue University Center for Food and Agricultural Business
You need a dynamic set of skills to lead in today's ever-evolving agribusiness industry. That's why we're here. We understand the industry you serve, and we can help advance your skill set and transform your thinking through the educational and research experiences we offer. 
This paper, published in the 2019 Special Issue of the Economic Review, explores how the agricultural sector might bridge the gap between its current state, where commodity prices and revenue generally have been low, to a longer-term future with greater economic potential.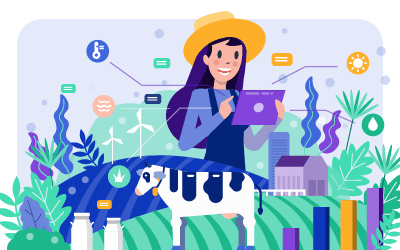 There is a lot of talk about "big data" in agriculture these days. The farm of the future is said to use multispectral imagery, soil and micro-climate sensors, equipment telematics data, and GPS to drive yield enhancing decisions. The growth of ag-tech startups suggests investors are optimistic about this future. Investment in the ag-tech sector grew 43% in 2018 to nearly $17 billion according to AgFunder News. Though the amount of data being collected from farms is growing rapidly, little is known about how farmers leverage this data to make decisions. According the USDA's Agricultural Resource Management Survey (ARMS), 61% of corn growers used a yield monitor in 2010 but only 34% used the data to generate a yield map, indicating a disconnect between data collection and data action.
Consolidation, tight margins, increasing consumer demand and price transparency are just a few of the challenges currently facing the agricultural retail supply chain, forcing leaders to adapt and adjust. These challenges have made continuous improvement in supply chain and operations management more important than ever before to maintain a competitive position.