Are You For or Against Online Grocery Shopping?
Authors: Nicole Olynk Widmar, Associate Head and Professor, Purdue University, Department of Agricultural Economics, and Dr. Courtney Bir, Department of Agricultural Economics, Oklahoma State University 
In 2021, four of us in the Center for Food and Agricultural Business shared some of our own 'new normal' practices that we intended to keep post-pandemic. (As a sidenote, post-pandemic is invited to come anytime now … it has been a little (lot) longer than anticipated.) Curbside pickup was a keeper for two of us, and another said shopping online but also visiting stores for entertainment purposes. Without a doubt, grocery shopping has changed, and consumer behaviors are sticky. The behaviors we've all adopted (even the weird canned goods and toilet paper hoarding ones) are likely to stick a bit and influence how we behave as consumers (or people), just as significant and traumatic events did for others who came before us. 
Last week we tackled the proportion of U.S. households shopping for groceries online and how they ultimately take ownership of those items, whether via delivery services, picking up themselves in-store or curbside services. In our January 2021 survey, we delved into why U.S. households would and would not shop online moving forward. We left off last week with the finding that 45% of our 929 respondents would shop online in the coming year and 55% would not.
Top reasons for those who would shop online were to lessen contact with others due to COVID-19 concerns (50% of respondents), because it saves time (46% of respondents) and because it helps to avoid lines (38% of respondents). Coming in at a very close 4th place top reason was because, "I can order groceries anytime from anywhere", which we mention here because it is my (Nicole's) personal top reason still today in 2022. Early on, I was definitely avoiding unnecessary contact for safety (I am still more cautious than the average person), but the fact that I can add 2-3 items at a time to my grocery list while I'm cooking and notice something is low, add to it while I'm in a waiting room for an appointment, or when I simply remember something I wanted or needed has fundamentally changed how I procure household items and food items. I don't know if I could go back to my 'old way'. If I had to do so, it would now be quite an adjustment.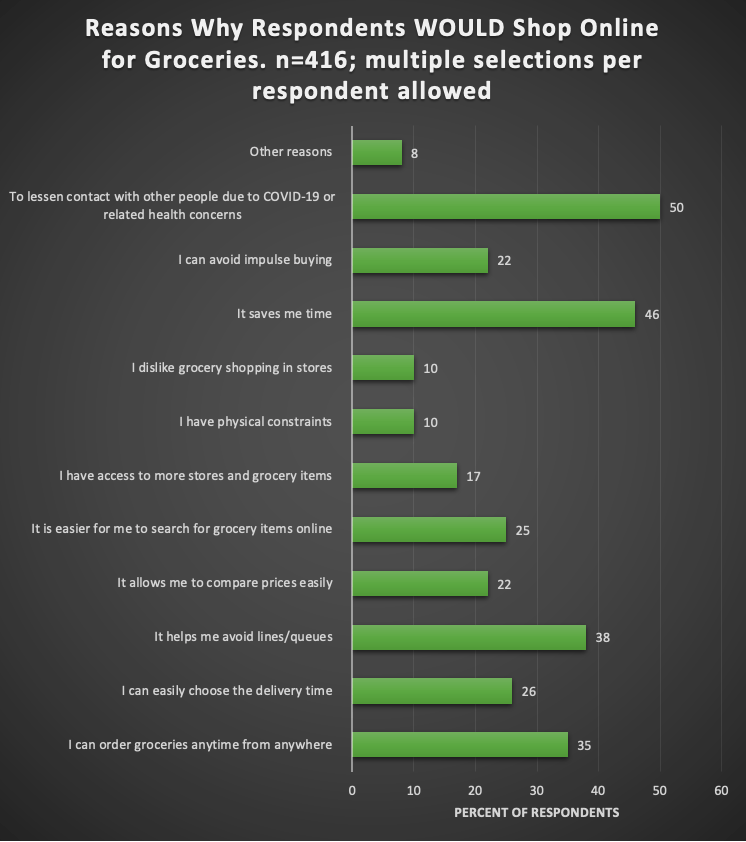 Now, switching gears to the majority of respondents, the top reasons for the 55% who stated they would not shop online in the coming year were liking to see and choose products in-person before buying (65% of respondents), enjoying shopping in-store (52% of respondents) and not wanting to pay charges for delivery/curbside (31% of respondents). Indeed, there are certain items like meat and produce I would have previously said I was uncomfortable ordering online. This is one case in which COVID-19 forced me to stretch outside my comfort zone and try it, and now I cannot imagine going back. Some of us are still enjoying free curbside service, whereas many are not or are paying for delivery charges. Will behaviors change if or when the costs associated rise? For some people, we suspect yes. But for some of us, I'm not sure what the willingness to pay is yet, but I'm sure it's a positive number (speaking for myself only here on speculation, of course).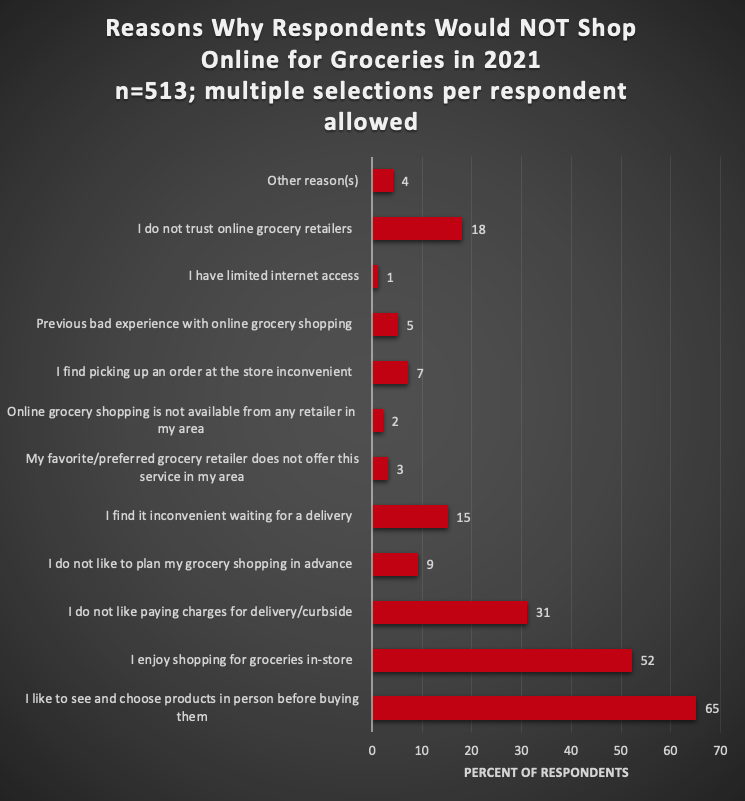 Taken all together, there are some interesting changes in consumer behaviors surrounding grocery shopping online. The reasons with the lowest numbers of respondents may be more interesting than those that are most popular. For example, only 9% of respondents indicated that they don't shop online because they don't like to plan their shopping in advance. And only 5% indicated they had a previous bad experience. Eighteen percent don't trust online grocery retailers, which may be an interesting point for further research to determine what people consider an online retailer versus their trusted neighborhood store (that they already know and trust) offering online service. Without a doubt, we raise more questions than answers about how food and grocery items get into U.S. households moving forward, but it seems the fundamental drivers of more online grocery shopping are there, and many of the reasons not to are potentially surmountable with enough time and effort by retailers.
ConsumerCorner.2022.Letter.11