Questioning the Value of "Thoughts and Prayers" for Natural Disaster Victims
Authors: Nicole Olynk Widmar, Associate Head and Professor, Purdue University, Department of Agricultural Economics, and Dr. Courtney Bir, Department of Agricultural Economics, Oklahoma State University
We're all about novel data to inform public decision making and well-being. We introduced social media analytics and our use of the Netbase platform back in 2020. We then shared results on public perceptions of agricultural fairs, Friendsgiving, agribusinesses and a multitude of other topics pertinent to public well-being and agricultural markets. We also revisited some of the top hits in our online media work to-date in the past ConsumerCorner.2021.Letter.15 What is Data Anyway?
Additionally, we recently published a paper together, along with Kendra Rash, Benjamin Bir and Jinho Jung, which resulted from our biggest and most complicated undertaking in online and social media listening yet, entitled The anatomy of natural disasters on online media: hurricanes and wildfires. Given the increasing frequency with which we are facing natural disasters and the scale of the destruction being caused, we sought to study the persistence (or lack thereof) in online and social media attention surrounding major disasters from people within and outside the disaster/impact zones. With the increasing propensity for individuals and government agencies to send 'thoughts and prayers', we also wondered if those wishes translate to increased funding and aid or replace it. Stated crassly, are thoughts and prayers sent in place of rather than in conjunction with actual aid and/or help?
 We studied hurricanes Michael, Maria, Irma, Harvey and Florence, alongside fires Woolsey, Mendocino, Carr and Camp.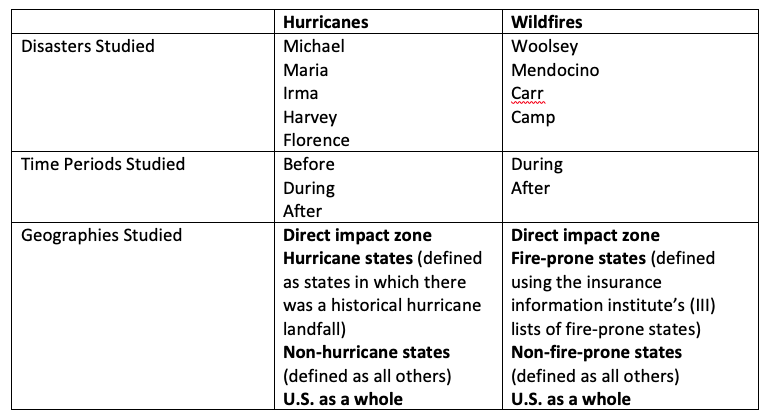 Each time period, set of terms, date range and geofencing used to determine impacted areas are freely available in our journal article appendices for transparency. We're including the camp fire appendix below for ease/example.
Total volume of online media was higher for hurricanes than wildfires. Admittedly, the population densities of coastal areas that take hurricane damage and the bigger metropolitan areas impacted by the hurricanes studied in our time period of inquiry are partly responsible for the sheer volume devoted to hurricanes. In contrast, wildfires occur in more rural areas and often in less densely populated regions. Further, specific words related to fleeting wildfires arose only from within the most wildfire-impacted states, which may again point to the ability for those in impact zones to connect while others may be empathetic but less likely to mention/post. Even putting volume debates aside, a key finding for all fires studied was that the online and social media attention given to the fire died out long before the fires themselves, which may cause issues for driving resources towards these areas for recovery.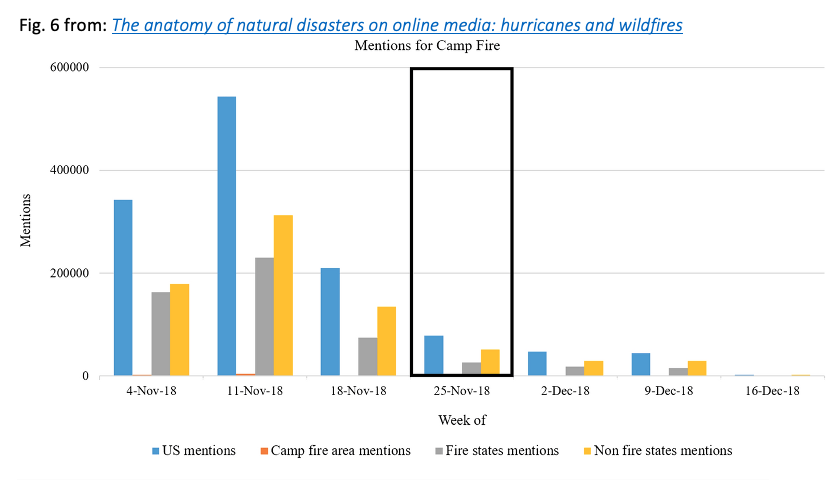 Mentions for Camp Fire by geographic area. Note: box indicates week fire was declared over.
Perhaps useful for public policy discussions (while there is no way to stop a hurricane that is coming), there are ways to stop or mitigate wildfire damages. Firefighters appeared as a top term related to fires; however, firefighters are chronically underfunded and understaffed. We saw public concern for firefighters rise during chatter about fires, although conversations about funding wildfire prevention, mitigation and fighting likely need to occur during non-disaster times to make real progress towards change.
Due to the complexity of fire damage and economic estimates, we focused on the study of economic impacts and aid alongside our online media data on the hurricanes studied. We looked at monetary aid, including FEMA disaster relief and Red Cross donations, alongside economic impacts for the hurricanes studied. Using the test of proportions, the percentage of FEMA assistance application, FEMA aid, Red Cross donations, economic impact and mentions were statistically compared between the hurricanes studied. In short, monetary aid did not align cleanly with the storm severity or media attention measured. Regardless of any specific valuation attached to a thought and/or prayer directed to disaster victims, it seems those social media well-wishes are offered in place of or alongside other assistance and that increased attention does not cleanly translate to increased aid or assistance.
Appendix preview:
Camp fire-specific terms
Include term: camp fire, #campfire, #CampFire.
Camp fire during date range: November 8, 2018–November 25, 2018.
Camp fire after date range: November 26, 2018–December 16, 2018.
Camp fire area *all available cities in Butte Co.
https://www.worldatlas.com/na/us/ca/c-butte-county-california.html.
Include geographies: Magalia California, Chico California, Chico-Redding California, Paradise California, Oroville California, Gridley California.
Geofence: Butte County.
Actual County: https://www.google.com/maps/place/Butte+County,+CA/@39.7220807,-122.1332831,9z/data=!4m5!3m4!1s0x809cd6015b7e73ab:0x856e36710c15f993!8m2!3d39.6253952!4d-121.5370003.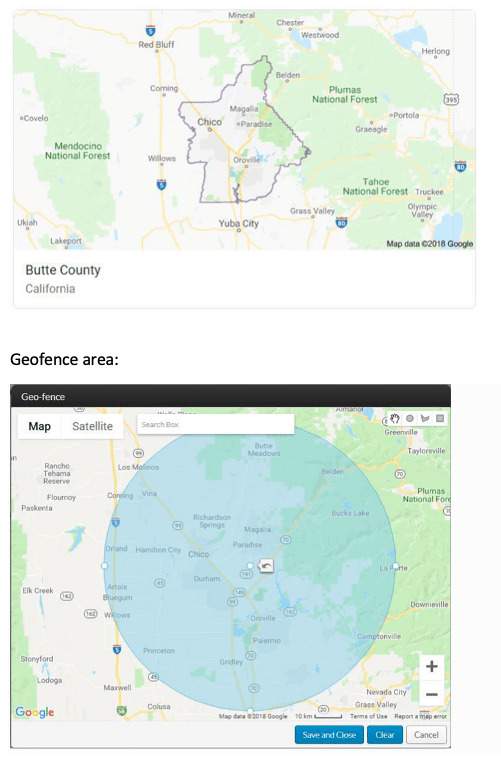 ConsumerCorner.2022.Article.4