Did You Know that Flour is Raw?
Jinho Jung, Post-Doctoral Research Associate, Purdue University, Department of Agricultural Economics
Our previous Consumer Corner article, #Food Safety in Online Media Space, exploited online and social media analytics surrounding food safety by relating food recall announcements and their effect(s) on consumer demand. While the article considered foodborne illness outbreaks generally, our latest study, Online Media Attention Devoted to Flour and Flour-Related Food Safety in 2017-2020, focuses on a specific item, flour, and its related food safety issues in the online/social media space. Even though flour can harbor diseases-causing bacteria such as Shiga toxinproducing Escherichia coli (STEC)/E. coli and Salmonella, it is rarely perceived to be as risky as other raw commodities such as meat, eggs and leafy vegetables. In reality, between 2017 and 2019, two foodborne illness outbreaks related to the consumption of flour products in the United States occurred: 21 cases of STEC and 7 cases of Salmonella (Harris and Yada, 2020).
Using online and social media analytics, we surveilled the online media space and quantified the share of media mentions and net sentiment about flour and flour-related food safety risks from 2017 to 2020. The total number of timeline mentions were 22 million for general flour search and 90,000 for flour-related illness search. It is found that the volume of mentions for the general flour search fluctuated seasonally, often increasing ahead of the holiday season (November-December) (Figure 1). A prominent and rapid but unusual increase in the volume of mentions happened in March 2020 (Figure 1). Considering that top words searched during the month were 'home baking' and 'cooking' within posts mentioning 'quarantine', the rise in volume may be related to the COVID-19 pandemic and stay-at-home orders.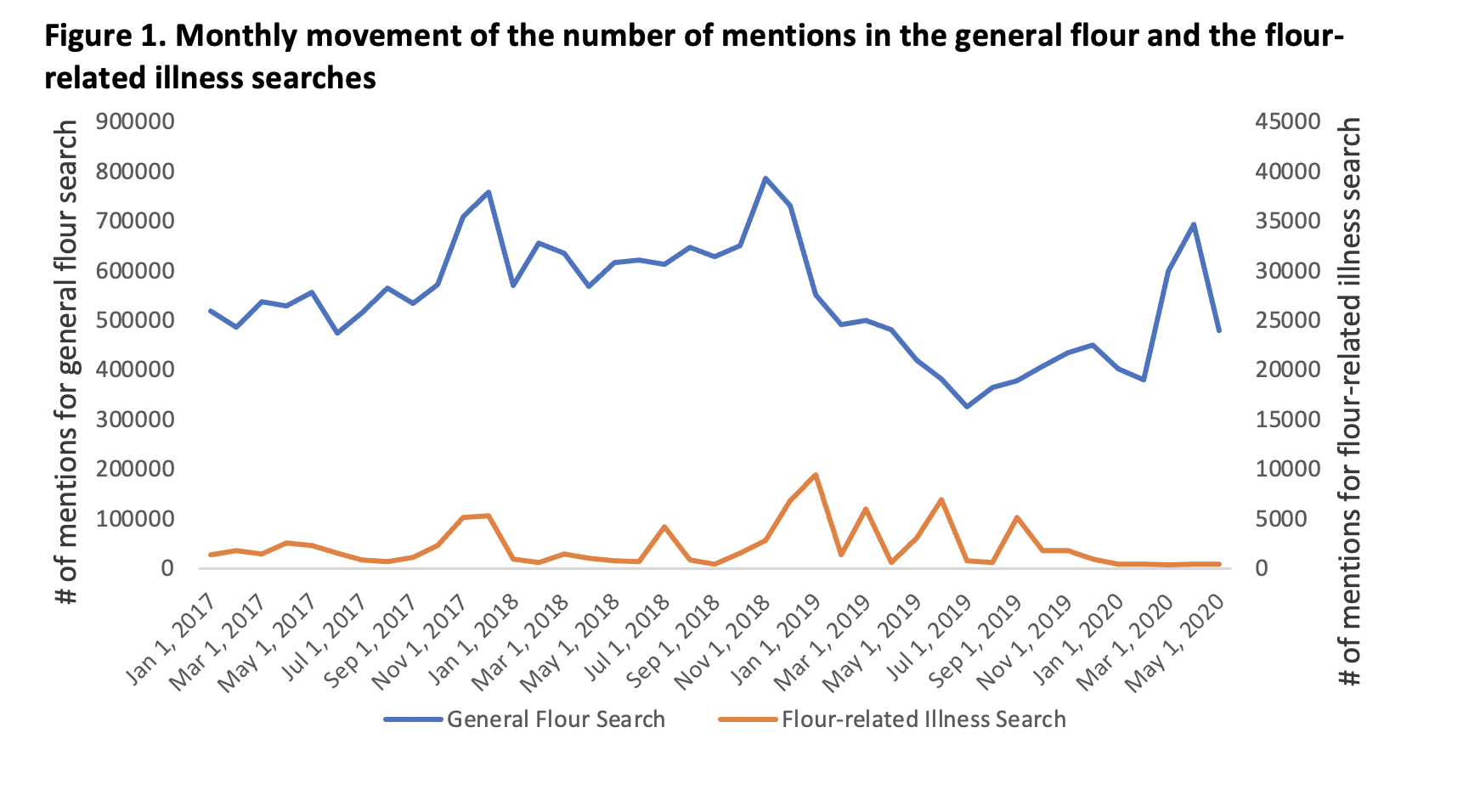 Although the dataset for flour-related illness (90,000 mentions) is smaller than the general flour (22 million mentions) dataset, accounting for less than 1%, search results collected accurately reflected initial CDC reports and all the FDA's flour recalls in real-time (Figure 2 and Table 1).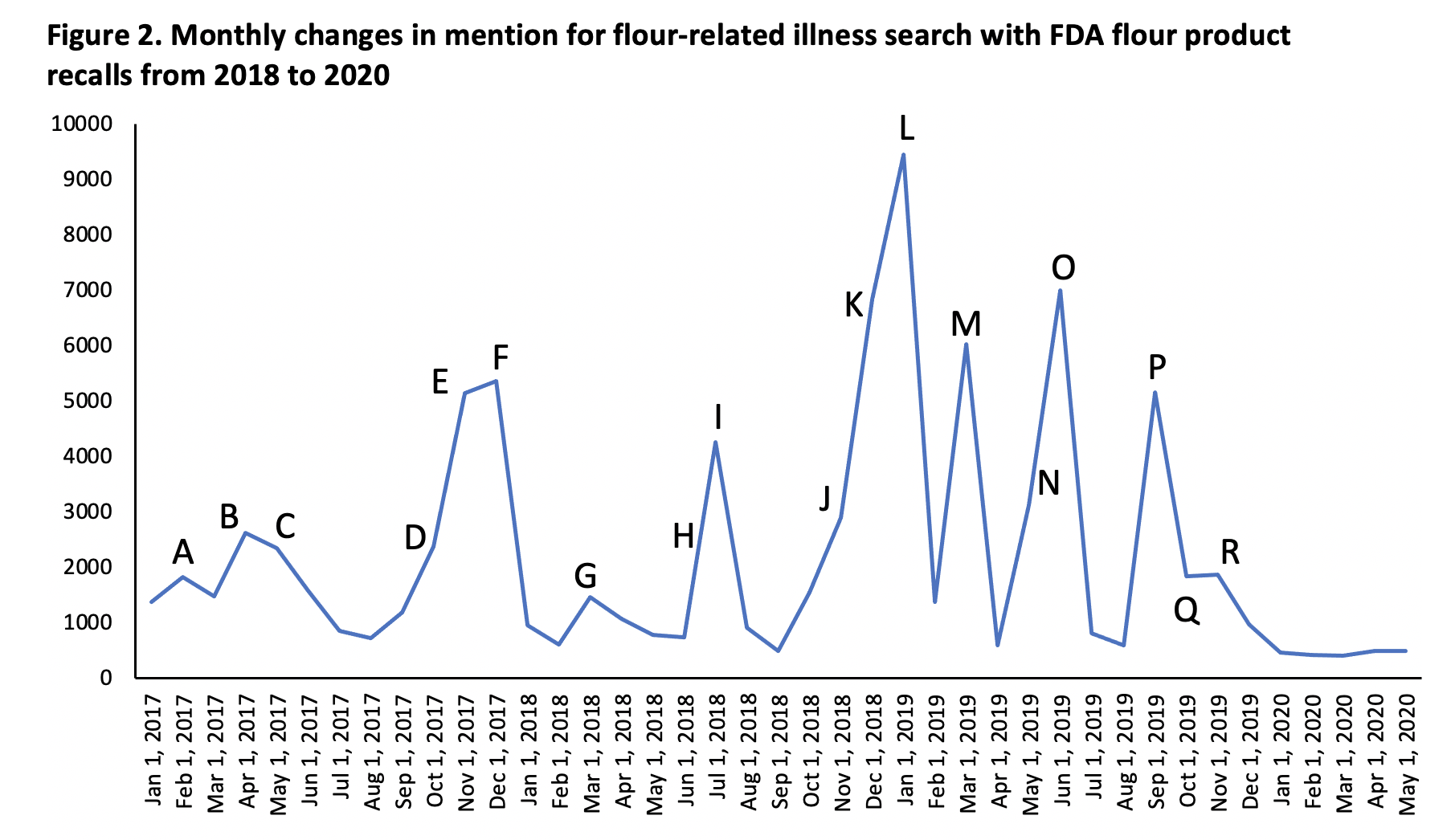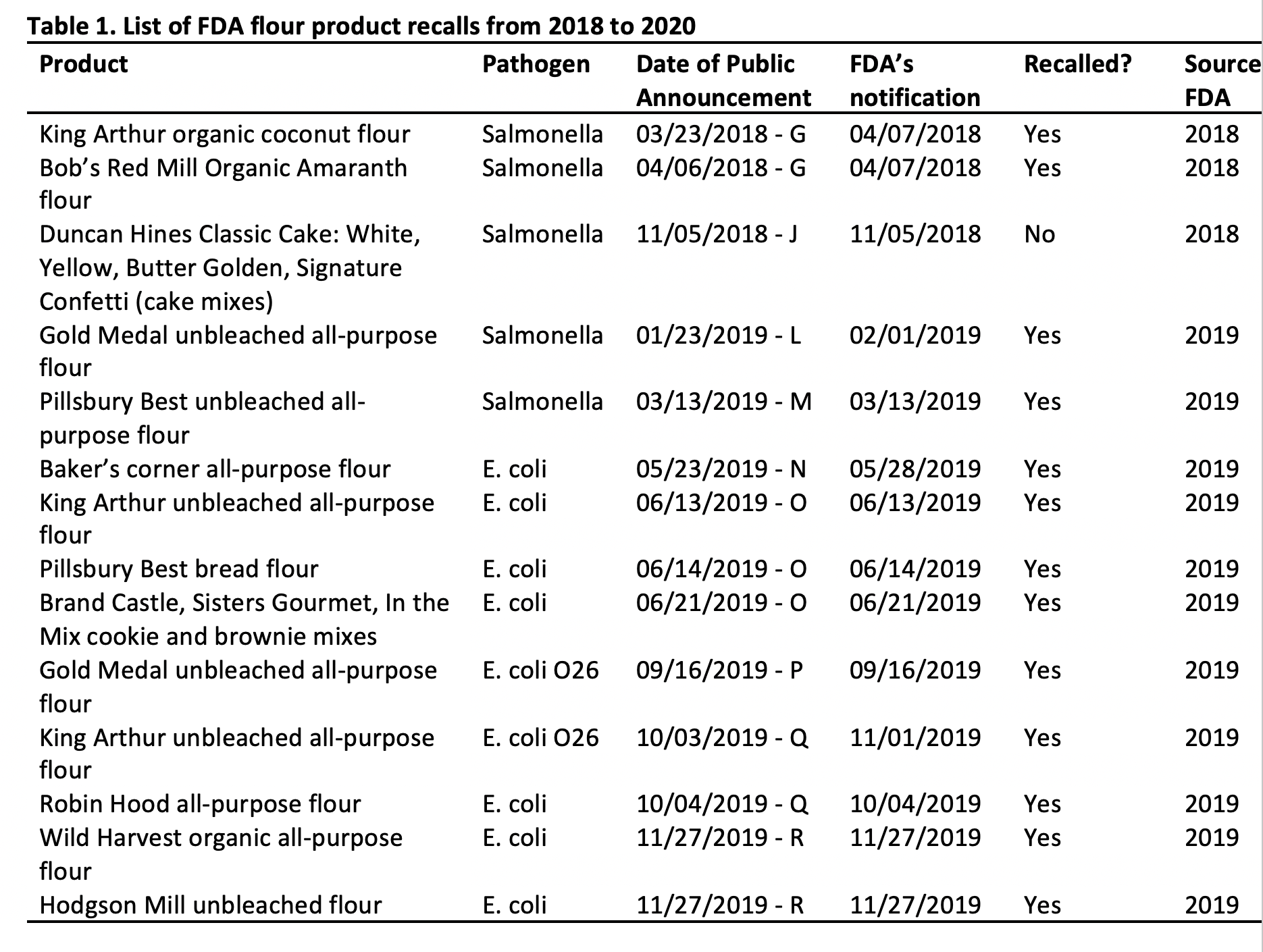 Monthly net sentiment also changed over time (Figure 3). The changes were more significant for the flour-related illness searches, which were mostly negative, while it was positive for the general flour search (Figure 3). As flour-related illnesses cause acute symptoms and discomfort, these negative net sentiment results were expected.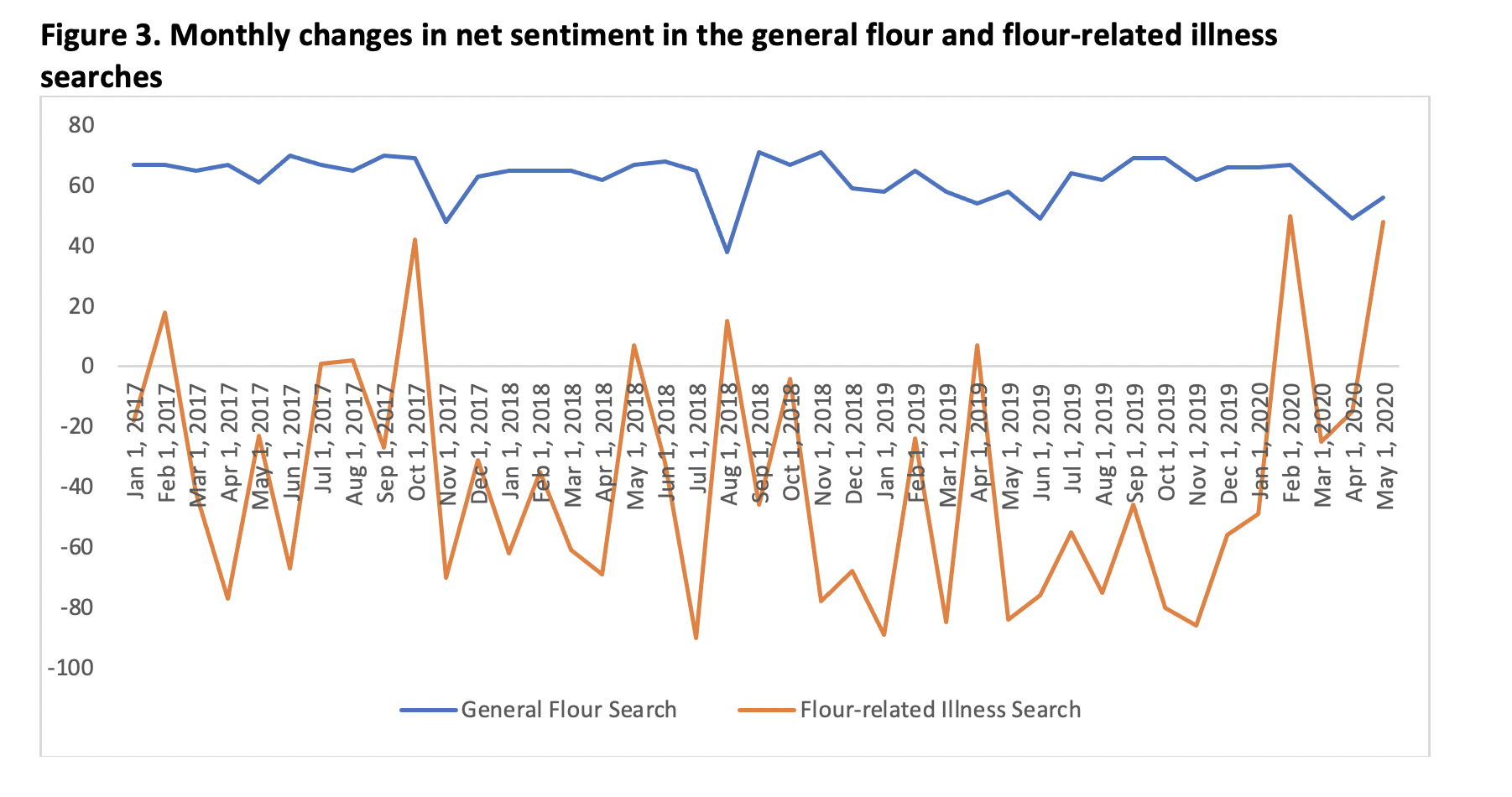 The top five attributes that drive positive and negative sentiments are also presented for both the general flour search and the flour-related illness search (Figure 4 and Figure 5). Net sentiments from the flour-related illness search results were mostly driven by attributes such as 'kill bacterium' for positive and 'recall' for negative sentiments. On the other hand, net sentiment from the general flour search results varied and mostly related to activities with flour such as baking.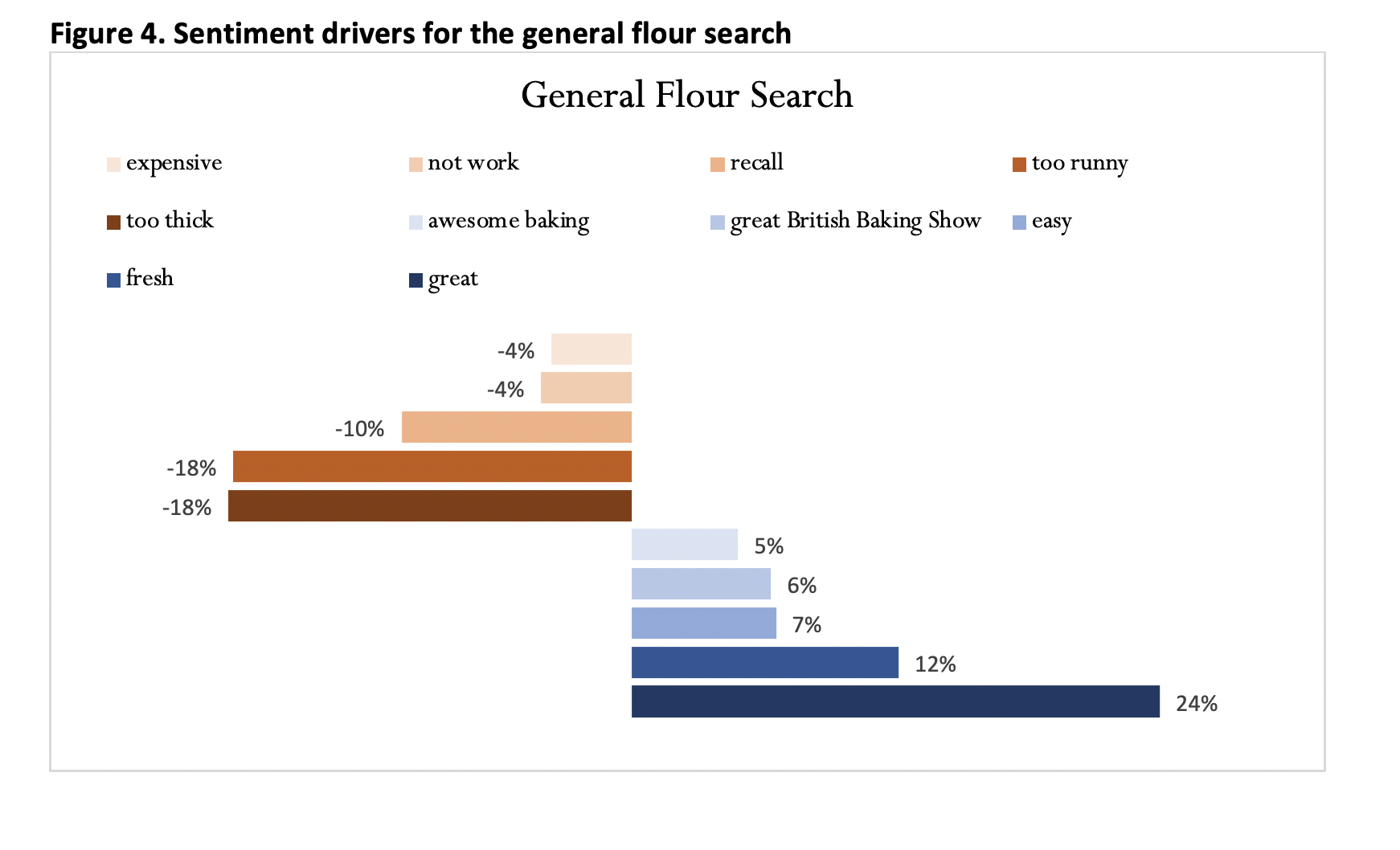 This Consumer Corner letter is based on the publication Online Media Attention Devoted to Flour and Flour-Related Food Safety in 2017 to 2020, by Jinho Jung, Nicole Olynk Widmar, Sangavi Subramani, and Yaohua Feng.  The paper was recently published (January 2022) in the Journal of Food Protection and is available at https://doi.org/10.4315/JFP-21-085
References
Harris, L. J., and S. Yada. 2020. Flour and cereal grain products: foodborne illness outbreaks and product recalls [Tables and references]. In Flour & Cereal Grains – Outbreaks and Recalls. Available at: https://ucfoodsafety.ucdavis.edu/low-moisture-foods/lowmoisture-foods-other-products.
Jung, J., C. Bir, N. O. Widmar, N. O., and P. Sayal. 2021. Initial reports of foodborne illness drive more public attention than food recall announcements. Journal of Food Protection. 84(7), 1150-1159.
ConsumerCorner.2022.Letter.13