Online Media Surveillance for the Public (Greater) Good?
Authors: Dr. Nicole Olynk Widmar, Associate Head and Professor, Purdue University Department of Agricultural Economics
Dr. Courtney Bir, Department of Agricultural Economics, Oklahoma State University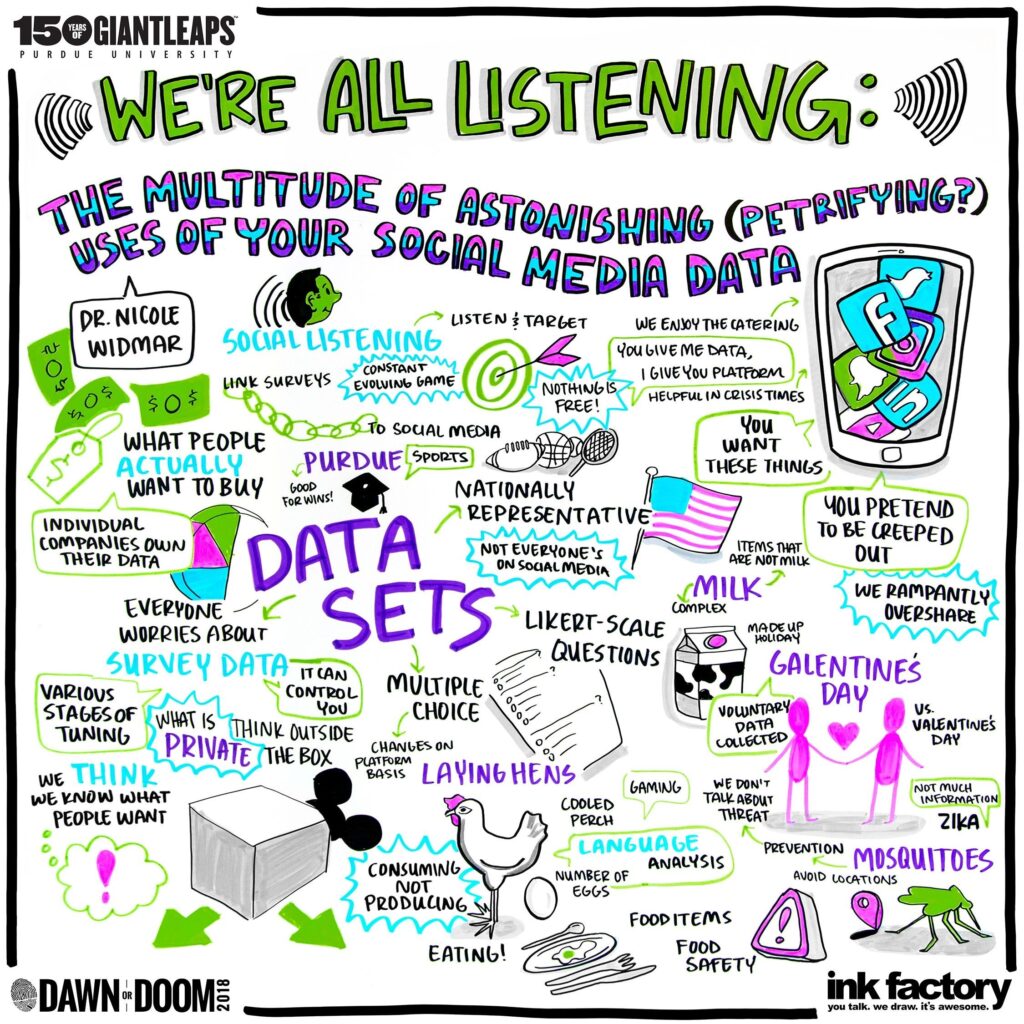 Online life IS life for many of us today. Social and online media are in the spotlight, as many of us attempt to work from home in a questionable state of attire (speaking only for myself). Grandparents are Zooming playdates with toddlers around the world, and we're all approaching "Zoombie status" in one way or another. Realistically, we were already well on our way to cultivating and maintaining online lives that rivaled our in-person lives before the pandemic. Evidence includes the new movements to limit phone time, move away from social media and tune-in to human interactions. We can point to the pandemic for the rapid shift as one explanation, but we were heavily living online before now if we're being honest.
Everything from Internet-based work and school to talking about everything from our eggs for breakfast to how we celebrated (or did not celebrate) #Halloween and #Thanksgiving to how the general public perceives animal agriculture at fairs has dominated Consumer Corner over the past few months. Back in July, we first explored a vein of research that employs sophisticated online and social media listening and data analytics in-depth to garner insights into what the online public thinks, sees, hears, repeats and posts. You may or may not be horrified at the volume of work our collaborators have generated while learning how to collect and use this type of data and apply those insights to agricultural and food research, marketing and education.
Conceptually, the idea of doing social listening and online media analytics at a public university for the public good has been mulled around in our research group since the beginning; our first public-facing presentation on this topic was at the 2018 Dawn or Doom Conference at Purdue University, debuting our first story about taking a tool commonly applied to name brands or individual companies and using it for commodity foods, such as eggs or milk. It was through Dawn or Doom 2018 that I came to own my favorite piece of artwork which summarized the talk (and was amazingly created in real time). 
#Mosquitoes
At Dawn or Doom, we provided 'sneak peeks' into ongoing data collection on perceptions of holidays, Purdue University itself and mosquitoes, among other things. Shortly afterwards, our focus on the perception of mosquitoes and their diseases grew into a full-scale research project which sought to quantify online media devoted to mosquitoes and determine what proportion of the online media we found was dedicated to the Zika Virus (ZIKV) during 2016-2018. ZIKV had broken into the U.S. national news stage in 2016. We had previously conducted research on travel intentions of U.S. residents, in wake of travel warnings about the Caribbean given the risks of ZIKV, particularly for pregnant women. We also investigated the perceptions of U.S. residents regarding using genetic modification to control disease vectors, among other uses. Clearly, at the time we collected data in 2016, people were concerned. We found evidence of concern and potential for changes in behavior, such as avoiding travel to certain riskier locations, but we wondered what the longer-term focus on ZIKV would be. 
Last month, our publication, Public perceptions of threats from mosquitoes in the U.S. using online media analytics, was published in Pathogens and Global Health. In the online media space, we discovered that the percent of total media about mosquitoes devoted to ZIKV declined rapidly during the study period. Visually, one can see the share of media devoted to ZIKV was quite high in 2016, but by 2018, it was a very small share of the "mosquito media". The risk persists in many places, yet the attention, as a share of media devoted to ZIKV within mosquitoes, fell over time.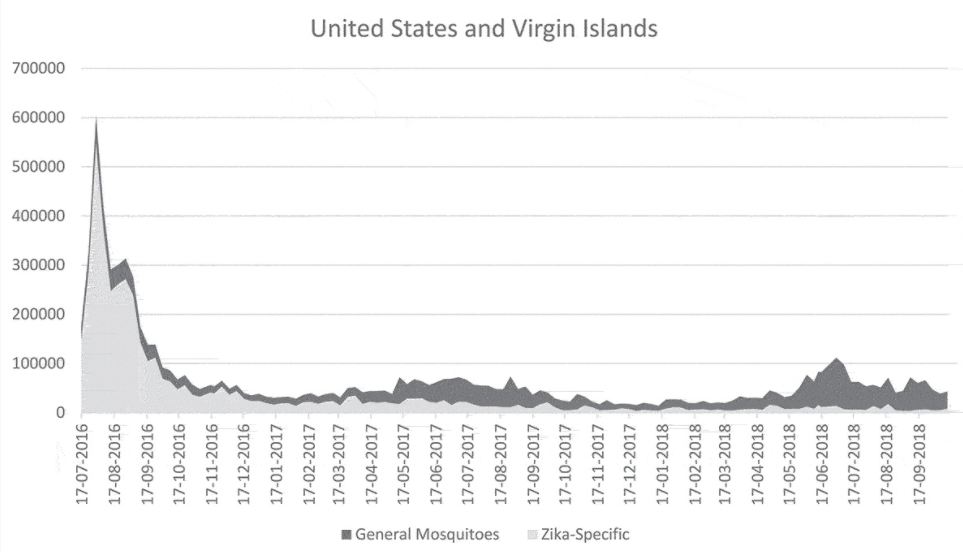 ***Note figure originally appeared in Widmar, et al. (2020) as half of Figure 1 with the header: Figure 1. Total numbers of monthly mentions for general mosquito and Zika-specific searches in the United States and Virgin Islands and the Aedes Aegypti mosquito zone searches (data collected and summarized on October 20th, 2018 encompassing the time period July 20th of 2016 through October 20th of 2018). 
From Widmar et al. (2020) Public perceptions of threats from mosquitoes in the U.S. using online media analytics: "Change or evolution of public interests, top words or things mentioned, or news coverage related to public health threats such as ZIKV, or the now critical COVID-19 pandemic, could potentially be assessed and responded to using understanding derived from online and social media data analytics." 
While this project was started before COVID-19, the idea of utilizing social and online media data and analytics to contribute to the understanding of public perceptions of public health threats seems more relevant than ever in 2020. 
Free access to the full research article Public perceptions of threats from mosquitoes in the U.S. using online media analytics is available here for download. 
Citation: Widmar, Nicole J. Olynk, Courtney Bir, Evan Long & Audrey Ruple (2020) Public perceptions of threats from mosquitoes in the U.S. using online media analytics, Pathogens and Global Health, DOI: 10.1080/20477724.2020.1842641
ConsumerCorner.2020.Letter.32