Blog Posts
Actionable, relevant insights on food and agricultural business management, strategy, sales and marketing, and more–all from the Purdue University experts you trust.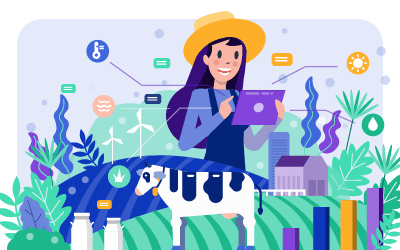 There is a lot of talk about "big data" in agriculture these days. The farm of the future is said to use multispectral imagery, soil and micro-climate sensors, equipment telematics data, and GPS to drive yield enhancing decisions. The growth of ag-tech startups suggests investors are optimistic about this future. Investment in the ag-tech sector grew 43% in 2018 to nearly $17 billion according to AgFunder News. Though the amount of data being collected from farms is growing rapidly, little is known about how farmers leverage this data to make decisions. According the USDA's Agricultural Resource Management Survey (ARMS), 61% of corn growers used a yield monitor in 2010 but only 34% used the data to generate a yield map, indicating a disconnect between data collection and data action.
Having taught marketing strategy for over 18 years, it has become apparent that even the most experienced marketers still struggle with how to effectively price their products and services. Pricing is one of the more strategic decisions a company can make; however, it is often treated as a tactic.
For many years, weather, disruption and unforeseen circumstances have been the root of issues affecting the agricultural value chain. Specifically, this year, excessive rainfall early in the planting season caused delays for crop farmers, and rising tensions from reports in the dairy industry have created challenges there.
Purdue Food & Agribusiness Quarterly Review