Leading Out Loud: A Guide for Engaging Others in Creating the Future by Terry Pearce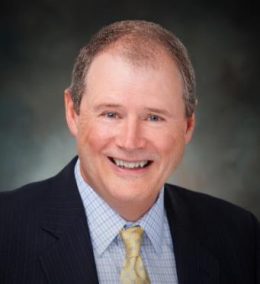 Dr. Pete Hammett, Visiting Professor, Purdue University Center for Food and Agricultural Business
Communicating effectively is a critical competency for anyone who interacts with people. The ability to express ideas succinctly and clearly is foundational to convince others to consider a different point of view and to keep appropriate people informed of progress. Clarity, persuasiveness, enthusiasm and conviction are all relevant factors.
Leadership presence is the ability to supercharge communication skills to bridge the gap between getting people to 'do things' and inspiring people to 'become something'. Leadership presence can be defined as the ability of a leader to inspire people to look inward and connect their business messages with employee experiences and what they deeply believe in and care about. This builds trustworthiness to create shared purpose and engage the hearts and minds of others, as well as enables leaders to lead across boundaries by earning employee commitment (versus compliance) and providing meaning that fuels maximum contribution.
As humans, we leverage our communication skills to influence, we persuade to gain compliance and we draw on our leadership presence to inspire and motivate to achieve commitment. Leadership presence builds on a leader's communication skills to boost their organizational impact by enabling their ability to authentically connect and engage their people.
The 5 key disciplines of leadership presence are:
Cultivate deep self-awareness
Build authentic rapport and connection with others
Demonstrate credibility
Exhibit grace and resilience under pressure
Communicate with heart
My favorite insight from Leading Out Loud was: "Managers are evaluated by what they know and the results they achieve. Leaders are followed because of their ability to articulate who they are and what they stand for."
How do we measure success in business? Most often we have used financial metrics to look at success, but what if we measured success based on how people within a business experienced the work necessary to create these outstanding financial metrics? This is the rough premise of Clifton and Harter's book, Wellbeing at Work.
Have you ever struggled to know how to have a productive confrontation with someone over a sensitive, complex or controversial matter? Have you ever struggled with deficiencies in your interpersonal skills? I certainly have, and I am always eager to learn how to improve relationships and influence people. In my quest, I found a number of life-changing insights in the book Crucial Conversations: Tools for Talking When Stakes are High.
The 1980s farm financial crisis impacts everyone involved in U.S. agriculture today in one way or another. We either lived through it personally, or we've grown up in its long-standing shadow. The seven-episode Escaping 1980 podcast unpacks this crisis to better prepare and position ourselves, both personally and professionally, to be more resilient in the future.