Increasing Profits with Multichannel Strategies
Article
Multichannel strategies for managing the profitability of business-to-business customers. Crecelius, A., Lawrence, J., Patil, A., & Scheer, L.
Journal
Journal of Marketing Research, 2019, Volume 56(3) 479-497
Reviewer
Dr. Luciano Thome e Castro, Clinical Associate Professor
Summary
The significant growth of e-commerce in business to business relationships (B2B) often causes sales companies to question the impact of direct customer sales calls on a regular basis. Many are also wondering if online channels will reduce or even soon replace the presence of traditional salespeople. But will this really happen? Further, what are the effects on sales and profits for a B2B company when combining salespeople with an online channel? Is combining these channels a transitional phase to a completely online model in the future?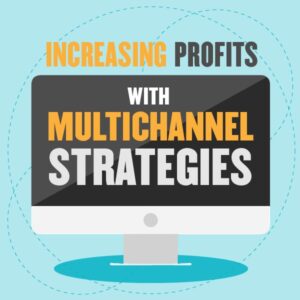 With these questions in mind, Justin Lawrence and his co-authors Andrew Crecelius, Lisa Scheer and Ashutosh Patil provide valuable insights for both companies and salespeople on how to effectively explore online channels while keeping traditional salespeople. The authors' findings are good news for salespeople and enlightening for companies' marketing channel strategies.
Findings from the research were obtained from a sample of 3,653 customers of a U.S.-based industrial seller. Sales and profits were compared between three groups: customers who only searched and bought online, customers who only talked to salespeople, and customers who both searched and bought online and talked to salespeople. The results found that when a salesperson was combined with an online channel, there was significant positive impact compared to the alternatives. The study concluded that the company's salespeople expenses were being more than paid off by the revenue generated from the salespeople/online combination.
Working with both a traditional salesperson and an online portal gave customers the best of both worlds. The two channels were found to complement each other, rather than act as contradictory or redundant. The salesperson's frequent contact with customers was key in helping them navigate the seller's portal and choose products that best fit their needs when making a complex or risky purchase.
Additionally, data on customer behavior helped salespeople better understand customer needs and see gaps between those needs and the products they were buying. This created many cross-selling opportunities. The research also showed that when a salesperson used customer data obtained from online behavior, they were able to make wiser use of price discounts by applying them to products the customer was interested in online. This resulted in profitable transactions and happy customers.
What this means for Food and Agricultural Business
Ag input manufactures and ag retailers have seen modest growth of purely online purchases. Gradually, e-commerce is taking its form across the industry. Farmers Business Network is a solid example of a purely online channel for agricultural inputs, bringing off-patent products to farmers across the United States. Other e-commerce channels such as Yagro in Argentina and IstaAgro in Brazil are growing.
At the same time in many parts of the world, traditional ag-retailers have started to offer a digital interface to customers, whether that be a farm management support tool, agronomic tools or the operationalization of transactional information online. Echelon from Nutrien and Verdict from Wilbur-Ellis are examples of large retailers in the U.S. that have adopted this approach. On a global scale, John Deere dealers take customers to the JD link, which offers equipment support and agronomic tools. In Brazil, the innovative company Orbia—a spin off from Bayer in Brazil—consolidates offers from a network of agricultural service providers that are commercialized online to farmers and ag retailers.
While the companies above provide customers with different online solutions and support (some purely online), the article from Andrew Crecelius and his co-authors suggests that the route to increased success with online tools in B2B markets such as agribusiness lies in integrating them with traditional sales channels. This is especially important when dealing with complex, riskier purchasing decisions such as land or equipment. Customers need extra support from salespeople when making larger decisions, whereas a purely online method can be beneficial for smaller, better understood purchases.
Food and agribusiness salespeople should be taking advantage of online data and digital tools as they can serve as a differentiating aspect when interacting with farmer customers. While the agribusiness industry has depended upon physical sales channels from the beginning, the dichotomy of online versus physical channels is certainly hindering potential. By integrating these different tools, a smarter hybrid solution can be offered to customers, thus increasing  in sales and profits is seen by organizations.
Looking back on her career thus far, Michelle Klieger, a 2015 MS-MBA alumna, views her MS-MBA degrees similarly to the art of tying shoes or braiding hair. Her degrees have served as a common thread, weaving their way into forming her career and helping her achieve her goals in many ways.
It was clear before and even more so now after the events of the last 12+ months — data-driven decision making is crucial for companies aiming to remain profitable and competitive in today's markets. However, beyond simply basing decision making on data, companies must take this a step further and fully embrace the concept of competitive intelligence to truly be successful. In the food and agribusiness industry, we are no exception to this rule.
Technological advances are being made in many areas such as big data, biotechnology, robotics and machine learning, just to name a few. These technological improvements have trickled down into everyday life in the forms of widely available internet connection and cell service. Any piece of information can be accessed by a few clicks of a mouse or a few swipes on a phone. Mobile banking is no exception, and it has the potential to become a standard business practice. Mobile banking still lags behind other forms of technology in terms of adoption as some people still prefer to use other means such at Automated Teller Machines (ATM) or drive through banking. However, the rate in which people are adopting mobile banking is increasing rapidly.